Introduction
Groups provides group-based user membership management, group-based capabilities and content access control. It integrates standard WordPress capabilities and application-specific capabilities along with an extensive API.
The following only intends to provide a brief overview. Please refer to the individual subsections for more details.
Content Access Control
Access restrictions on posts, pages, …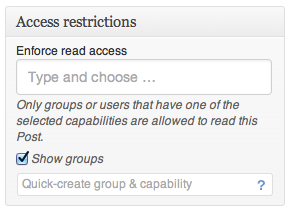 On posts an pages (and custom content types) a new meta box titled Access restrictions appears. By checking a capability under Enforce read access, you can restrict access to the post to groups and users who are members of a group with that capability. You need to assign this capability to a group and make users members of that group to allow them to see those posts.
Content visibility for members and non-members
The [groups_member] and [groups_non_member] shortcodes are used to limit visibility of content to users who are members of a group or users who are not members of a group. Multiple comma-separated groups can be specified.
Example: Limiting visibility of enclosed content to registered users.
[groups_member group="Registered"]
Only registered users can see this text.
[/groups_member]
Content visibility based on capabilities
The [groups_can] and [groups_can_not] shortcodes limit visibility of enclosed content to those users who have the capability or those who do not have it. Multiple capabilities can be given.
Example: Showing enclosed content to users who can edit_posts (standard WordPress capability).
[groups_can capability="edit_posts"]
You can see this only if you have the edit_posts capability.
[/groups_can]
User management
Users menu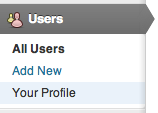 The group membership of users can be managed directly from the WordPress Dashboard through the Users menu. Multiple users can be added to, or removed from, one or more groups at once.
User profiles
Group memberships can be shown on the user profile page and edited by users who can Administer groups.
This option is disabled by default and can be enabled under Groups > Options > User profiles.
Groups menu
The Groups menu provides direct access to management functions related to groups, capabilities and plugin options.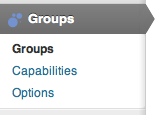 The corresponding documentation pages provide details on each section: