PrestaShop users can finally take advantage of our leading Affiliate Marketing Technology which is now available as Affiliates Pro for PrestaShop, compatible with self-hosted and cloud-based installations.
If you want to boost sales for your online business, Affiliates Pro for Prestashop supplies the right tools to implement the easiest to use and best Affiliate Marketing solution.
Focussed on providing the easiest to use and best Affiliate Marketing solution for PrestaShop, we can find among its features:
Social Sharing integration
Banner Management
Increase Sales through Affiliate Marketing
Unlimited Affiliates
Automatic Sign-Ups
No fees or third-party services
Integrated Affiliate Management
Purchase Referral Tracking
Customer Referral Tracking
Unified commission rate for orders
Optional commission for customer sign-ups
Promoting your Business
Affiliates use their marketing resources in several ways to refer orders and new customers: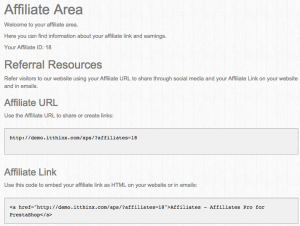 Using affiliate links to any section of the site.
Using banners designed to promote your products and business.
Using social sharing buttons for products. The system is integrated with the Social Sharing module for that purpose.
To get an idea of how this works, let's take a look at the referral process. Note that this can be used to track referred orders and pay affiliates their commission on orders, but also to refer customers, assuming that you allow affiliates to get a commission per new customer referred.
The Referral Process for Orders and Customers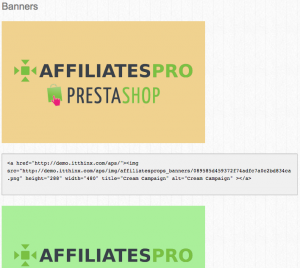 Affiliates can promote the site and refer sales and customers using their affiliate links. A specific Affiliate Area is providing the necessary resources, including basic affiliate links and banners as well as performance and earnings statistics.
The referral process is as follows:
An affiliate signs up to the affiliate program of your site. Alternatively, the affiliate is added by an administrator.
The affiliate accesses the Affiliate Area to obtain her affiliate URL, link and banners.
The affiliate uses the affiliate links and banners to promote the site through channels like Email, Facebook, Twitter, Google+ …
Potential customers view the information posted by the affiliate and click the affiliate's link or banner.
After clicking an affiliate link or banner, the customer places an order and the system recognizes that the order was referred by an affiliate.
A referral is automatically recorded based on the order placed by the referred customer. The referral holds the commission amount credited to the affiliate and this is taken into account by the system when you request the accumulated totals for a given period to pay your affiliates.
To purchase this module, visit Affiliates Pro for PrestaShop in the shop.