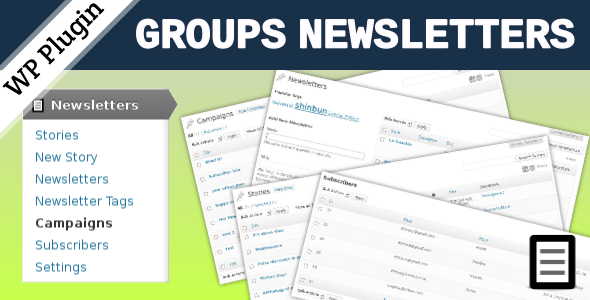 Newsletter Campaigns for Subscribers and Groups.
Groups Newsletters helps you to communicate efficiently, providing targeted information to groups of recipients through automated campaigns.
Download
Purchase a license and download the plugin.
Automated Campaigns
Unlike your average newsletter system, Groups Newsletters combines multiple stories in a newsletter and uses campaigns to send out one or more newsletters to their recipients. The recipients for each newsletter can be different user groups (when Groups is also used).
Targeted newsletters
Among the reasons to use Groups along with Groups Newsletters you may find:
You want to send specific newsletters to a subset of the site's users. For example. if you have a Premium group to which users who have purchased premium access to the site belong and you want to send out a newsletter offering them a special discount.
You maintain groups for specific products or services and want to make their users aware of a new feature or bug fix without sending the same information to normal subscribers.
Communicating with departments in a company – send out specific news that is relevant for those working in one department.
CRM – target valuable information at customer groups.
Leagues & teams – send out information on events relevant to specific groups, for example by sport, by team, by association …
To quickly create a Story Editors group for users who should be allowed to handle newsletters.
Let customers subscribe to newsletters at checkout with WooCommerce.
For regular subscribers, you can work without Groups and take advantage of the powerful newsletter campaign management features provided.
Documentation
Please refer to the documentation pages for more information.
Screenshots
Here are some screenshots of the admin sections:
Developers
Groups Newsletters provides lots of sensible WordPress actions and filters that you can use to customize the system. It leverages custom post types and taxonomies to provide a system that any developer who is familiar with those concepts in WordPress can use, to provide a customized solution for your client.
If you have questions or suggestions, feel free to post a comment below.