I've been running a VPS with VPS.NET since May 2010, this is a Debian based server on two nodes in the London A cloud. Here are my thoughts about why to choose a VPS based server and my experience with VPS.NET.
I would have preferred to have the sites running on real (i.e. physical) machines that I can have access to (as in walk over there and see how it's doing), I've got enough machines lying and idling around at my place, one new Dell R200 is still waiting to get unboxed for the first time in its existence. The problem is that where I am living I simply can't get a decent upstream rate – hell even the downstream rate sucks under circumstances – so there's no way I could be running sites from any server here. But I need to. So …
Options?
– Shared hosting is simply not an option for the sites I'm running: I need to be able to fully control my servers and their IPs, also I don't want to see my emails returned because they are sent via servers blocked through SORBS and many reasons more.
– Dedicated server: This is an option but there are at least two reason why I choose the next one: Scalable pricing and scalable performance.
– VPS server: As I said, scalable pricing and scalable performance are among the main reasons to choose this option.
I gave VPS.NET a try and set up a plain Debian server based on the Debian 5.0 (Lenny) x64 template. I'm used to working with Debian and I like to add the services I need – and only those – instead of choosing a pre-configured template and running lots of services the server doesn't need. See this article to read more about their template images.
I choose VPS.NET because I wanted to be able to try their service for a month and if it was convincing then I planned to stick with them. It's a very time-consuming task to set up a server the way you want it and I did not wish to need to change after setting the thing up. I was prepared to change my provider though, and I still am, if serious issues would justify the work that would involve for me.
The server I am running is based on two nodes. This gives a storage capacity of up to 20 GB and a system equivalent RAM capacity of 752 MB.
Here's a view through htop on a machine that's idle on two cores and running 6 Apache server processes (don't look for the processes – it's just set up that way):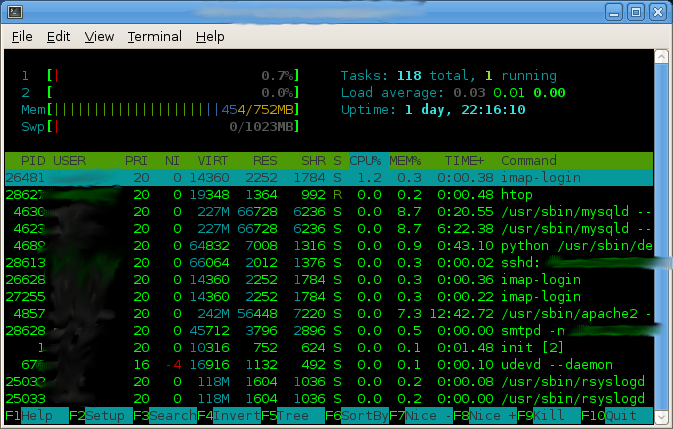 So, besides processing power, memory, bandwidth and disk space, what would be a reason to stick with one provider or another? For me there's at least two:
a) uptime and the amount of work I have to put in to assure it
b) customer service response time with an implicit understanding that issues are resolved along with a response
To get a picture on how VPS.net performs on b), let's take a look at the tickets I submitted to VPS.net for my two-node server since May 2010 until today:

All in all, response has been usually quite fast but there have been some really annoying issues, especially when you see that your machine suddenly is powered off for no apparent reason caused by insufficient resources on hypervisors.
When that happens, a) is taking an undesired place in my busy schedule. So with this service it has happened, and practically ruined more than one morning's schedule. But still, the good response I have seen from their support somehow balances that.
Also there was one longer downtime during a scheduled maintenance that led to several hours of downtime during European morning hours, no joke if your email server sits on the machine affected.
Other than that, I'll stick with VPS.NET for now, at least with this server I'm currently running with them. Unless there are frequent serious issues or unresponsive support, for my part I'm still quite satisfied although there have been problems.
For those interested in setting up a Debian server on a VPS, please follow me on Twitter. I've got lots of documentation I'd like to share at some point which I would like to turn into a complete "How to set up a Debian server with minimal resources and security in mind" or something along the lines.
And for those who appreciate this site and want to support it, here's my affiliate link to VPS.NET:
If you like to try out their services and want to show me your support, please use it. Thanks.