Download
Download the free Groups 404 Redirect plugin for WordPress.
Description
This plugin redirects 404's caused by hits on pages that are protected by Groups.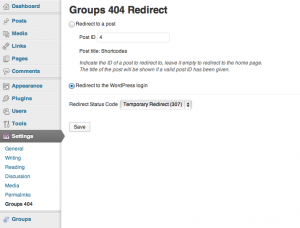 The redirection settings can be adjusted in Settings > Groups 404 :
Visits to protected pages can be redirected to:
a specific post, or
the WordPress login
The redirect status code can be selected among:
Moved Permanently (301)
Found (302)
See other (303)
Temporary Redirect (307)
Installation
Upload or extract the groups-404-redirect folder to your site's /wp-content/plugins/ directory. You can also use the Add new option found in the Plugins menu in WordPress.
Enable the plugin from the Plugins menu in WordPress.
Go to Settings > Groups 404 and adjust the redirection settings as desired.
References