An affiliate program can be really successful when you have naturally motivated participants. An ideal affiliate is someone who enjoys your product or service and is comfortable recommending it to his peers. This can be especially fruitful in niche markets, where personal recommendations are welcome among those who share their interest in the niche.
You can offer your customers an extra incentive to buy your product. Allow them to promote it and earn commissions at a preferential rate if they have bought it.
In this article, we look at an example affiliate program where customers can earn 25% commissions on sales they refer, instead of the lower 10% commission rate that applies to any plain affiliate.
Incentivize customers to buy your product and enjoy the benefit of becoming a premium affiliate
Customers can earn a preferential 25% commission rate
Non-customer affiliates earn a 10% commission
In this article, we assume the role of an indie game developer who sells an exciting new game called Desert Death. To allow gamers who are just as excited about the game to help promote it, they can become affiliates and enjoy that preferential commission rate.
What you need
Guide Outline
We will set up a group named Premium Affiliates for our customers
Then we will create an Affiliate Area page
Next we set up the commission rates for plain affiliates and paying customers
We look at how to set up a product that grants customers their preferential membership with our Premium Affiliates group
Setting up a Group for our exclusive Affiliates
We start off by using the Groups plugin to create a new group. Customers who buy our game will be assigned to this group. In this guide, we are using the name Premium Affiliates as the group name. However, it is worth mentioning that the name of the group can be anything you prefer.
From your WordPress admin dashboard:
Navigate to Groups > Groups
Click on New Group
Enter Premium Affiliates as the name of the group
Click Add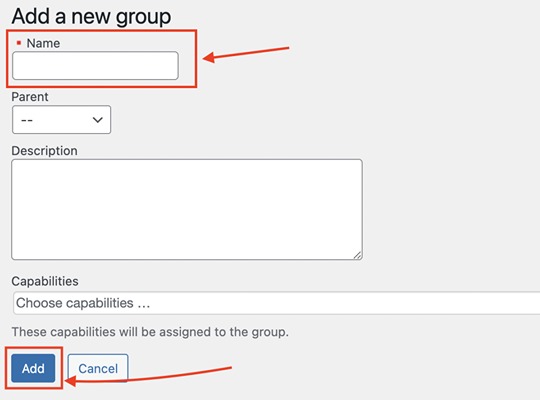 Generating an Affiliate Area Page
In this section, we focus on generating the page that holds our site's Affiliate Area. Once generated, the Affiliate Area page will contain the Affiliates Dashboard Shortcode, which renders the complete Affiliates Dashboard with all its sections. For visitors who are not logged in, it will render the dashboard section that contains the login form and it also renders the registration section.
In order to generate the Affiliate Area page:
Navigate to Affiliates > Settings > Pages
Click the Generate button

You also have the option of creating the Affiliate Area page yourself. This is easily done by:
Navigating to Pages > Add New
Add the Affiliates Dashboard block
You can also view available blocks provided by Affiliates Pro in the documentation here and those available with Affiliates Enterprise are documented here.
Setting up our Commission Rates
With our Premium Affiliates group created, we can now proceed by creating two new rates. A rate that would grant a 10% commission to all plain affiliates and another which would grant a 25% commission to all customers who bought our game, i.e.members of the Premium Affiliates group.
From your admin dashboard, navigate to Affiliates > Rates. Then proceed by clicking New Rate.
Creating a basic Rate for normal Affiliates
This first rate applies to any normal affiliate, so every affiliate who has not purchased our game but refers a sale gets a 10% commission.
For that, we choose the Type Rate and indicate 0.10 as the Value. As we do not specify any further conditions on this rate, it will apply to referrals in general.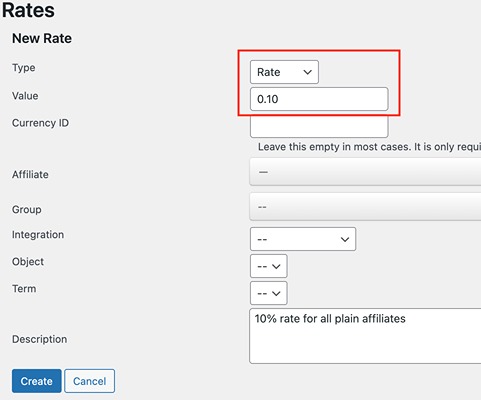 Creating a preferential Rate for Customers
Our second rate applies to customers who have bought our game. If a customer refers a new sale, he will get 25% commission instead of the 10% commission.
To define this rate, we choose the Type Rate again and indicate 0.25 as the Value. We also choose Premium Affiliates as the group, so the rate is limited to affiliates who are members of this group. Remember that any customer who has bought our game will be a member of this group.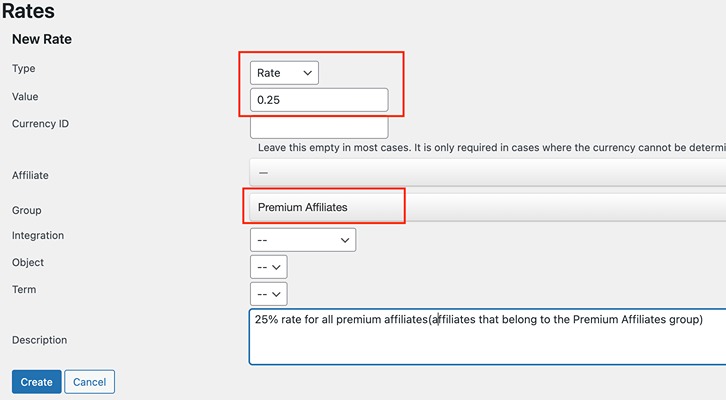 The rates system used in Affiliates Pro and Affiliates Enterprise is extremely flexible. Read more about what you can do with rates here and here.
Setting up the Membership Product
Now that we've created rates, our next task is to create a product which grants customers membership with the Premium Affiliates group. To keep things simple, a customer who buys that product will enjoy an unlimited membership with that group.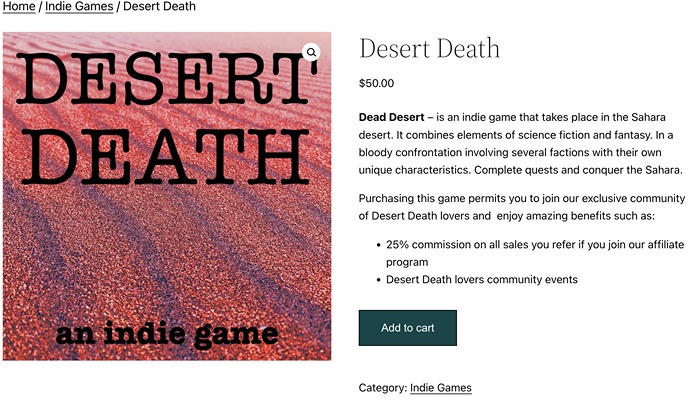 It is however worth mentioning that Groups WooCommerce allows you to sell unlimited lifetime memberships with a single payment, limited memberships that last for a certain amount of time and subscription-based memberships in combination with WooCommerce Subscriptions.
Creating our Product
Let's create our simple WooCommerce product named "Desert Death" … we will be brief about the common parts and focus on the membership that comes with the product. If you are not familiar with setting up products in WooCommerce, you can refer to the section that explains how to Set Up Products in detail later.
Navigate to Products > Add New
Enter the product's details such as its name, description, price, featured image, …
In the Product Data section, click the Groups tab and choose Premium Affiliates under the Add to Groups option
Click Publish

At this point, you should have a product called "Desert Death" in your shop. When purchased by a customer, it assigns the account to the Premium Affiliates group. If the customer wants to help promote the game and signs up as an affiliate, he will receive the preferential commission rate we set up earlier.
The video at the beginning of this article illustrates how a customer purchases the "Desert Death" game and decides to sign up as an affiliate. It also demonstrates how the customer, now also a premium affiliate, refers a sale and gets a 25% commission from the sale of the game via his affiliate link.
Credits: All media copyright by itthinx.