How to prepare a trouble-free Black Friday Campaign
Learn how to create your Black Friday publicity campaign for discounted products and have your WordPress site display them automatically during relevant days. Follow our content-dripping tutorial below, we show you how to achieve that in simple and easy steps.
Use this tutorial and improve your customers' engagement by scheduling content releases like product offers, or new product teasers within a specific timeframe.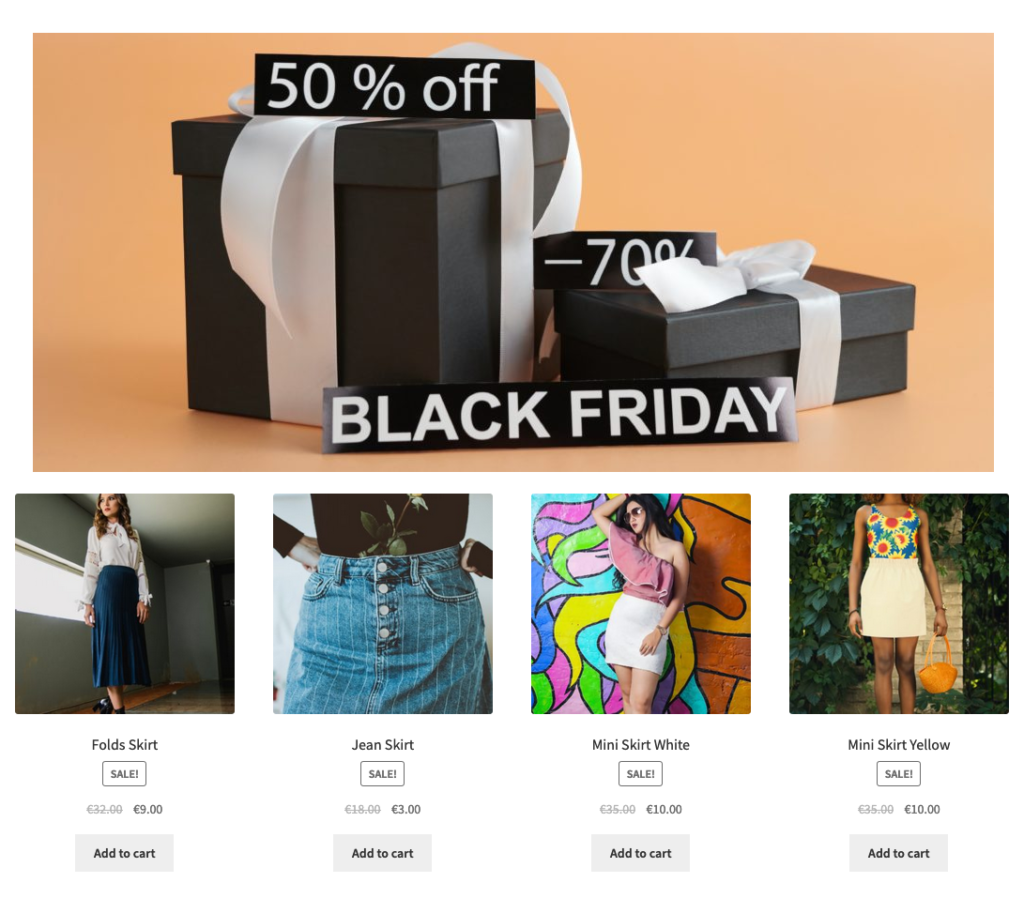 In this tutorial, we adopt the role of a store manager for a Women's Fashion store. We will keep our visitors engaged with our promotional content, during the Black Friday sale. Our store is powered by WooCommerce.
The promotional content consists of a dedicated page with a relevant banner and those products that are scheduled to be on sale for this period.
Our main goal is to schedule the visibility of the promotional page itself, making it publicly accessible only during this sale period.
This way our campaign will be in place when needed, leaving us stress-free to prepare and ship the increased amount of orders we expect to receive during the sale.
When is Black Friday?
Black Friday is the Friday after Thanksgiving in the United States. It is commonly seen as marking the start of the Christmas shopping season, and many stores, online as well as brick and mortar, offer an important selection of products at discounted prices. If that wasn't already enough, Cyber Monday is the Monday after Thanksgiving and a follow-up to boost online sales again at discounted prices.
Here's a reference to keep in mind the dates:
| Year | Black Friday | Cyber Monday |
| --- | --- | --- |
| 2022 | November, 25th | November, 28th |
| 2023 | November, 24th | November, 27th |
| 2024 | November, 29th | December, 2nd |
| 2025 | November, 28th | December, 1st |
| 2026 | November, 27th | November, 30th |
Remember that Thanksgiving is celebrated on the fourth Thursday of November, then it's easy to know when your Black Friday campaign should start … the day after. Some businesses even choose to make the whole week a discount frenzy, but we think it's diluting the spirit of the holiday and will stick with just a couple of days for this tutorial.
What Tools do we need?
We will schedule this promotion using the Groups Drip Content extension to Groups, a unique tool that can release content on a specific timeframe. This plugin adds extra features to our post types, where we can specify when and for how long our content will be visible to our site guests, registered users or members of a group.
In the following sections we will create the page that will act as a catalog for our discounted products. For that reason and in order to make it more relevant to the Black Friday concept, we will add a banner related to Black Friday sales. Right beneath that banner, we will render four products that we have already chosen to put on sale for this period.
Once we prepare this page, we will schedule it to be released only for 2 days, the day before Black Friday 2022 and on that same day. This obviously means that on Saturday 26 of November the addon will automatically hide it from the front-end.
To follow the rest of this tutorial, we would advise you to create a category named Black Friday and under it add four products: Folds Skirt, Jean Skirt, Mini Skirt White and Mini Skirt Yellow. The naming of the category and products can differ but the main purpose is to organise our discount products under the same category.
We will keep this guide simple and prepare a plain page where we will add the Black Friday banner and those four relevant products of the Black Friday category.
Let's prepare the Promotional Page
From our Dashboard we navigate to Pages > Add new and create an empty page.

Then using the Widgets Block editor we will add an Image block and upload the Black Friday banner so that our customers know from the beginning that they have visited the right page on our site.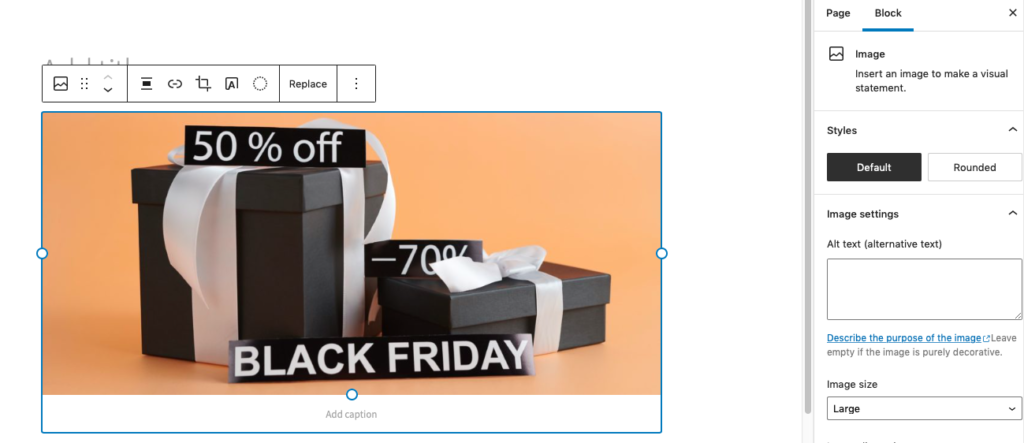 Again, the choice for this banner image can vary as long as it serves the purpose of the discount concept.
Now that the banner is in place, right under it we will add the Products by Category block. As you have already imagined this is how we will render the products filed under our Black Friday category we mentioned earlier.
This leads to the next step. In the block settings we will select the Black Friday category from the block options or if you prefer those four skirt products we have already created. Right after that selection and for the same block we will set the number of Columns to 4.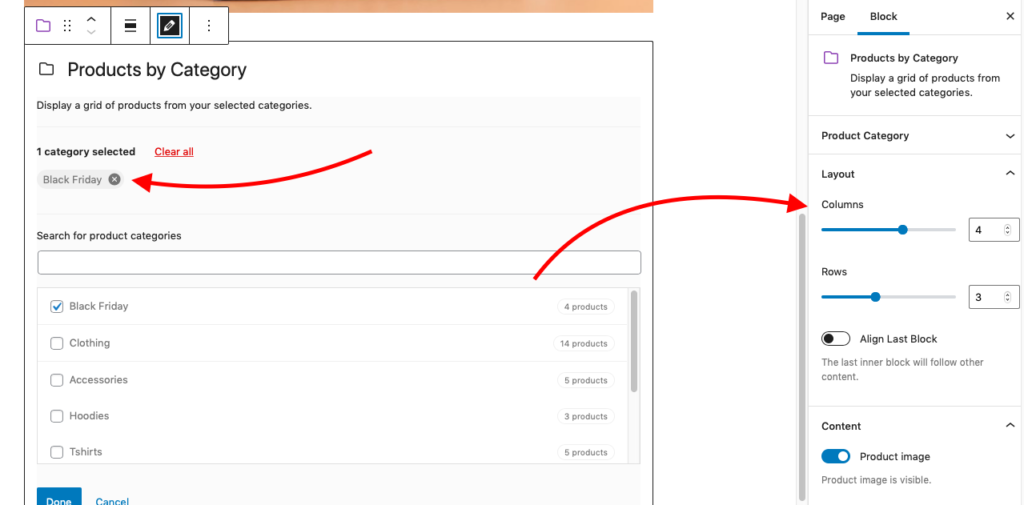 You may use as many Columns as you see fit, but for our case 4 columns will align the products with the banner we added before, making it look like the image shown at the beginning of this tutorial.
The content is ready and we will proceed to the final step which is to schedule when this content drips.
The Drip options panel is located under the Page tab and has a number of options that cover different dripping cases.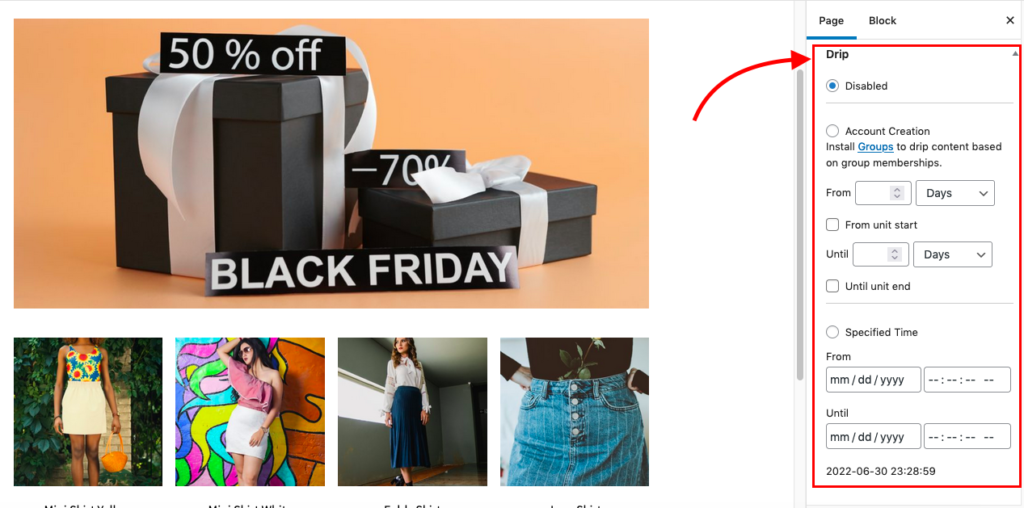 As we mentioned earlier, the content will be visible for a predefined number of 2 days, on the day before and on Black Friday.
For that reason, we will enable the Specified Time option and specify the From, Until dates to set the limits of our timeframe.
Typically, Black Friday is the last Friday of November, so for the From date we will select 11/24/2022 and for the time 12:00:00 AM which is the day before Black Friday.
Accordingly, for the Until date we will select 11/25/2022 and set the time again to 12:00:00 AM.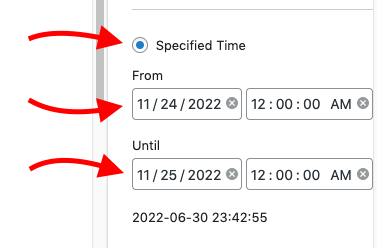 Now that we have finished setting the dripping schedule, our page is fully prepared.
Let's hit the Publish button and follow-up with a test.
Testing the Campaign Page
The promotional page is already published and the easiest way to check the accuracy of our schedule, is with a quick visit on the frontend.
Unless you are viewing your page the day before or on Black Friday 2022, the page should remain hidden and produce a 404 Not Found. This is ok, because the page is only supposed to be accessible during the specified time.

You might be wondering why since the page is saved on our site and we can find it through the Dashboard.
But earlier we have set the dripping schedule for this page at a later date than today, so our test is successful.
Now let's make another test only this time we are going to check if the content is actually dripped in the specified time we set.
Since we cannot wait until the Black Friday to check the schedule accuracy, we will go back to the Drip options panel and use the current date and time that will keep dripping our content for a couple of minutes.
While keeping the Specified Time option active, let's proceed to the From and Until fields and use the current date and time.
In our case when writing this guide the From date should be the 07/06/2022 at 12:25:00 AM
In turn the Until date will be the same 07/06/2022 and the time 12:26:00 AM.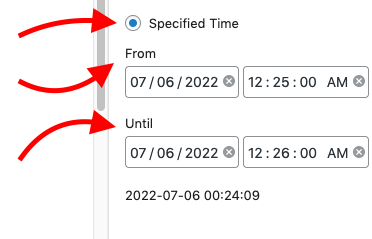 This specified schedule will drip our content on 07/06/2022, starting at 12:25:00 AM and the page will be visible for a minute.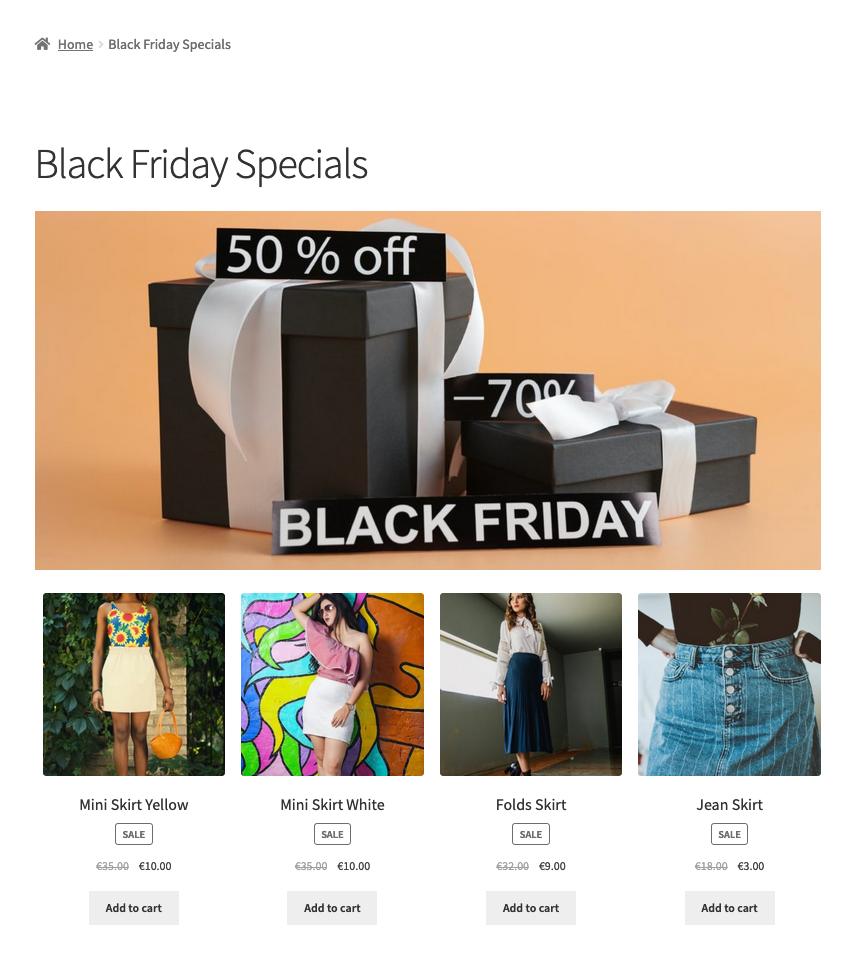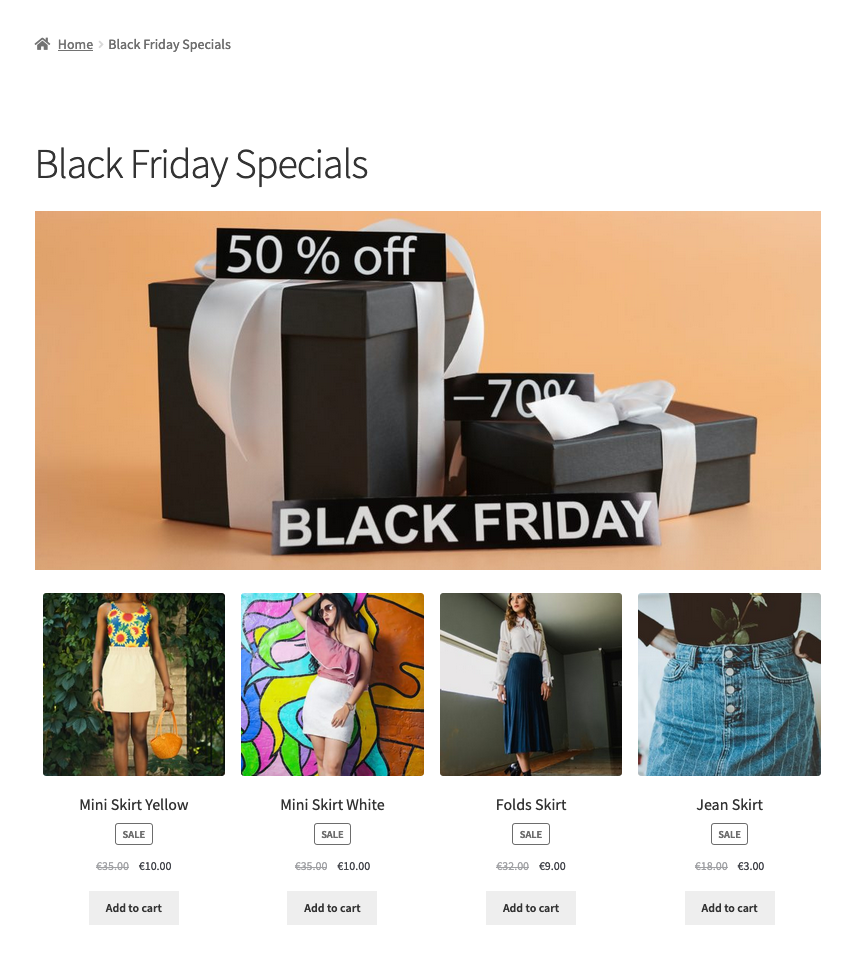 Perfect!
Our promotional content is ready and can be scheduled for the Black Friday sale.
If you have any questions, please add your comments below!
Photo credits: Dashboard and Block Editor by me, Black Friday banner by Max Fischer, Blue Skirt by Elias de Carvalho, Blue Denim Skirt by Lisa, Yellow Mini Skirt by Godisable Jacob, White Mini Skirt by Abir Hasan.