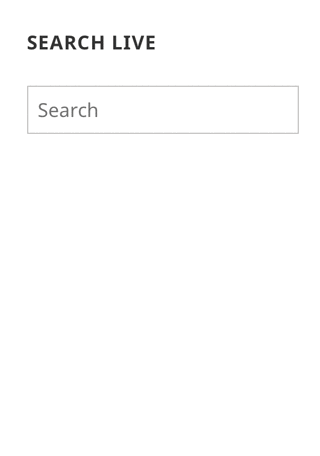 Search Live supplies integrated live search facilities and advanced search features.
Instant Search Results
This tool provides instant live search results where matches are found for one or multiple search keywords in titles, excerpts or content, allows to enhance the standard search form with this functionality, provides a flexible shortcode [search_live] that can be placed anywhere to provide an interactive search form and a widget for use in sidebars.
Instant search results replace the standard WordPress search form. This is enabled by default but you can turn it off.
You can use the shortcode [search_live] to place a search form anywhere.
You can use the Search Live widget in your sidebars.
Search Live automatically supports Custom Post Types, for example products or events. Any plugin that supplies its own public post type will be supported instantly.
Search Live can show instant search results including thumbnails and short descriptions or manual excerpts. Among other useful options, you can determine the number of results shown and whether to search in any combination of titles, excerpts or contents. These can be determined individually for each instance of Search Live's shortcode or widget.
Search Live supplies results from posts, pages and other public post types. We're working on an extended version that provides enhanced features and support for taxonomies.
Download
You can install the plugin directly from your WordPress Dashboard or go to the Search Live plugin page on WordPress.org where you can download it.
Screenshots