Sell memberships and subscriptions with Groups and PayPal
Groups PayPal is a WordPress plugin that allows to sell memberships and subscriptions on your site.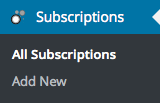 Create a subscription and place a simple shortcode anywhere on your site and let Groups PayPal handle the purchase, recurring payments and group membership.
Groups PayPal uses PayPal Payments Standard and captures PayPal's IPN messages to track payments.
Features
Subscription products with recurring payments
Flexible pricing including daily, weekly, monthly and yearly subscriptions with extended payment period configurations such as payments every 15 days, every 3 months, …
Open subscriptions (receive payments until cancelled)
One-off payments
Place one or more subscription buttons with fully handled checkout anywhere on your site
Fully integrated with Groups – Supports all features of the Groups plugin with unlimited group and membership capabilities, also on multisites.
Documentation
Please refer to the plugin's documentation for details on usage and setup.
Screenshots