Groups Subscriptions is a subscription framework for Groups.
Groups Subscriptions is distributed with Groups PayPal.
For WooCommerce, Groups Subscriptions is not required, see Groups WooCommerce – Groups for WooCommerce is a WordPress plugin that allows you to sell memberships.
This extension is only legally distributed through itthinx.com, its distribution through any other source is not authorized or endorsed.
PayPal Subscription Overviews
Integration with Groups PayPal.
Subscription products define terms and pricing. A dedicated subscription menu provides the facilities to define subscriptions.
Shortcodes provide a complete checkout experience for subscriptions through PayPal Payments Standard.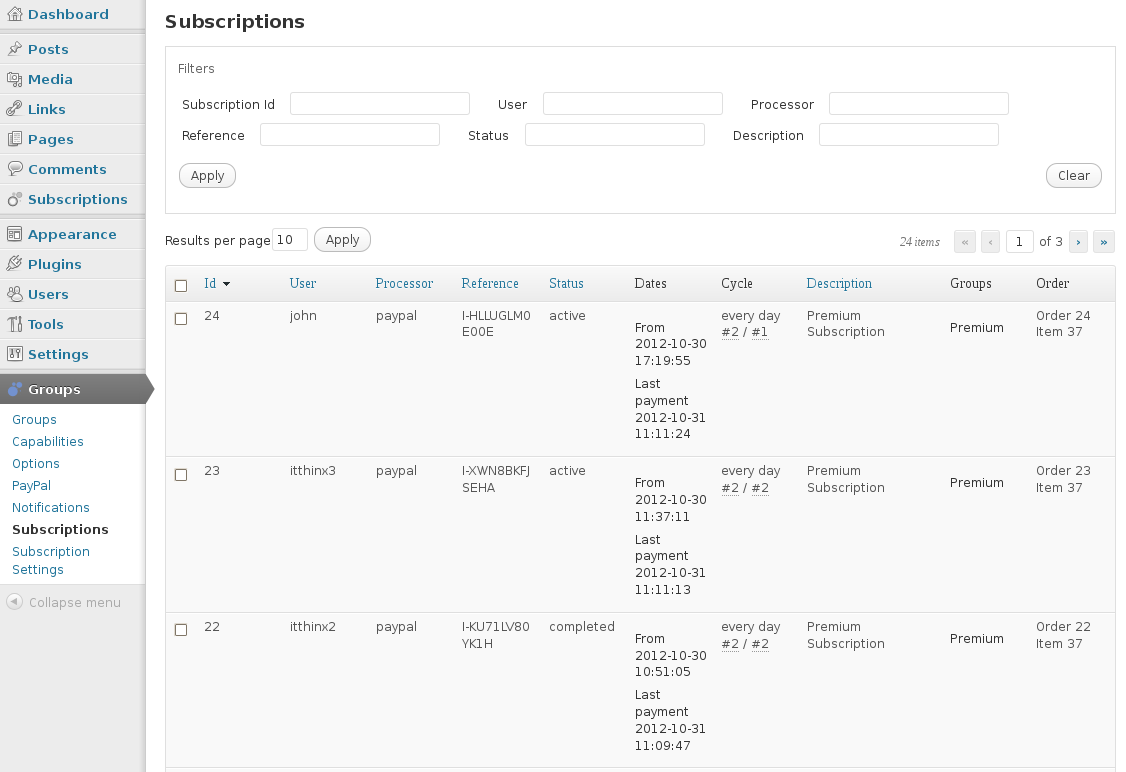 Subscription Info
In user profiles
Groups Subscriptions allows to display subscription information on user profile pages (enabled by default but can be turned off). The setting can be adjusted in Groups > Subscription Settings.
Shortcodes
The [groups_subscriptions_table] shortcode allows to display information about a user's subscription.
It supports the following attributes:
status : The subscription status, defaults to active. It can be a comma-separated list or * for all subscriptions. Valid values are active, cancelled, completed, expired, inactive, suspended.
user_id : Defaults to the current user's id, accepts user id, email or login to display information about a specific user.
show_count : If info about how many subscriptions are listed should be shown. Defaults to "true".
count_0 : Message for 0 subscriptions listed.
count_1 : Message for 1 subscription listed.
count_2 : Message for n subscriptions listed, use %d as placeholder in a customized message.
show_table : If the table should be shown. Defaults to "true".
columns : Which columns should be included. Defaults to all columns. Specify one or more of subscription_id, processor, reference, status, dates, cycle, description, groups, order.